Community Leadership, Action and Service Program (CLASP)

About the Program
CLASP is a service-learning experience that offers students first-hand experience in a community based organization. Internship placements focus on a variety of social issues, including but not limited to youth empowerment, arts education, public health, literacy, domestic violence prevention, and food security. Students gain valuable work experience while learning how organizations are addressing community challenges associated with social, economic, and political inequality.
CLASP runs during Summer Session III (July-August) and offers undergraduate students:
A five-week internship
A weekly social justice seminar
A stipend of $500
The opportunity to earn 3 course credits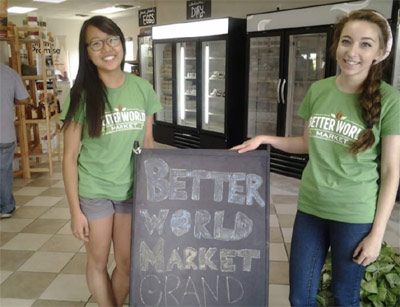 Students are placed in a non-profit organization for a five-week internship in July and August to assist with a specific project or program. Internships culminate in the design and presentation and workshop or report at the internship site. Schedules vary depending on the organization, but internships generally total 24 hours a week, completed on Monday, Wednesday and Friday from 9:00am to 5:00pm.
Stipend
In order to offset the costs of transportation and food during the program, students in CLASP will receive a stipend of $500. The stipend is contingent on participants' attendance at the internship site and seminar.
Throughout the duration of CLASP, students attend a weekly seminar (lunch is provided). The seminar provides interns the time and space to reflect on their internship experiences individually and as a group. Students may receive 3 internship course credits for participating in CLASP offered through Women's and Gender Studies and/or the Social Justice minor. The program has also counted towards degrees in Sociology, Criminal Justice, Public Health, Psychology, and many more.
The seminar is designed to explore the broader social, economic, and political context of the issues addressed by their organization, with weekly topics ranging from poverty to social justice. Students are responsible for weekly readings as well as keeping a journal to record their reflections. The seminar format is a mix of discussions, films, workshops, and activities. CLASP is not simply a summer internship: students critically engage with issues such as immigration, social justice, and poverty and reflect on ways to create social change.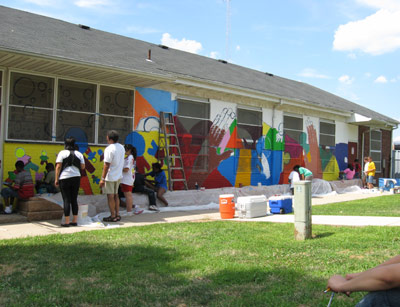 The CLASP internship sites are community-based organizations. Although internship sites vary each year, all selected organizations work in some capacity to address inequalities and related social issues. Participating community organizations address youth empowerment, poverty, violence against women,and immigration.The CLASP internship sites are community-based organizations. Although internship sites vary each year, all selected organizations work in some capacity to address inequalities and related social issues. Participating community organizations address youth empowerment, poverty, violence against women,and immigration.
Arts Mentoring Against Drugs Racism & Violence (AMARD&V) Summer Camp is a joint project between the Center for Latino Arts and Culture, The Puerto Rican Action Board in New Brunswick, and the Suydam Street Reformed Church. Launched in 1997 through a partnership with the Robert Wood Johnson University Hospital Health Promotion Program, AMARD&V is a creative art youth program that targets economically disadvantaged Latino and African American youth in New Brunswick and seeks to encourage positive interaction between them. Rutgers students and alumni work to staff the program and serve as youth counselors and faculty. The purpose of the program is to engage Latino and African American youth in the creative process enabling them to master multidisciplinary art skills, increase understanding of respective cultures, strengthen critical thinking skills and foster proficiency in performance through team-building, discussions and art-making. A significant goal of the program is to cultivate among the students a sense of belonging to a broader community, where they see themselves as fully productive "cultural citizens", acknowledging they are valuable members of this society.
Center on Violence Against Women & Children was established in 2009 with a mission to eliminate physical, sexual, and other forms of violence against women and children and the power imbalances that permit them. This mission will be accomplished through the use of a collaborative approach that focuses on multidisciplinary research, education, and training that impacts communities and policy in New Jersey, the U.S., and throughout the world. VAWC is committed to providing a comprehensive approach by using evidence-based prevention and intervention strategies, Professional Training & Certification, community-based research, building community partnerships, and M.S.W. education to target different forms of violence and abuse.
Dina's Dwellings is a project that provides housing for female victims of domestic violence and their children within the Town Clock CDC, which is located in the steeple of the First Reformed Church of New Brunswick. The Town Clock CDC has been under construction from 1827-1839. Dina is Dina Van Bergh, who immigrated to New Brunswick from Amsterdam in 1786. This project is named after her in an attempt to retain her spiritual influence over New Brunswick and to provide a better life for women who are suffering. In 1971 the Sanctuary of the First Reformed Church has been burned down, because a man was angry that the church has been providing sanctuary to his partner, who has been a victim of abuse. Because of this, the congregation members and community leaders developed a solution to restore the church, which was to turn it back into a sanctuary for domestic abuse victims.
Elijah's Promise has been helping low-income people in the central New Jersey community since it opened its doors in 1989. Elijah's Promise offers a variety of programs and services, including serving nutritious meals, social services and health screening, culinary arts job training and entrepreneurial training, and a catering business. Elijah's Promise takes emergency food assistance to the next level, striving to serve food with optimum nutritional value wherever possible while advocating for policies and programs that support our most vulnerable neighbors. The Promise Jobs Culinary School offers a full-time, intensive training program that prepares participants for employment in the food service industry. The social services team provides guests of the soup kitchen with information, and referrals to other agencies to help them solve their problems. For the past twenty years, Elijah's Promise has been moving people from hunger to wholeness.
Eric B. Chandler Health Center The Eric B. Chandler Health Center is a family-based community health center that is conjunctionally operated with the Robert Wood Johnson Medical School and Eric B. Chandler Community Board, Inc. Services provided by the clinic include family medicine; infectious disease (i.e., HIV) counseling, testing, and treatment; pediatrics, gynecology, obstetrics, and dentistry. It may includes social services, community outreach, and nutrition and health education. The Center's mission is to provide high quality services that are diversely flexible; to promote healthy routines and educate patients to be more responsible with their health care decisions; provide social and health services to the community; and provide outstanding education opportunities to employees who train at the Center.
Hyacinth AIDS Foundation was established in 1985 in response to New Jersey's AIDS epidemic. When it first began, its initial responsibilities included: a hotline, a buddy program, and support groups. As the understanding of HIV/AIDS advanced, so did Hyacinth. For over 30 years, it has been a crucial element to the implementation and development of public health policies and services to the New Jersey Community. Its has taken expanded its services to include: confidential HIV/AIDS testing, education for the high-risk population, and medical services to those who have been affected by the disease. Hyacinth aims to support individuals who are currently living with HIV/AIDS, slow down the HIV/AIDS epidemic and provide a positive voice within New Jersey about HIV/AIDS.
Interfaith Rise  is an official affiliate site of the US Committee for Refugees & Immigrants. I-RISE is committed to resettling refugees in central NJ, assisting asylum seekers before and after release from Elizabeth Detention Center, and supporting local faith and civic groups as they advocate for and work with refugees in their communities. I-RISE assists with housing, ESL, social services, education, medical assistance, mental health services, transportation, and supportive community integration as families and individuals journey towards self-sufficiency and independence.
Intersect Fund is a non-profit microlender business that allows the low income families to become more equipped. They help them create businesses, build assets, and help them earn income. Business-training, coaching, and loans are also available throughout New Jersey to low-income families, minority groups, and women who run businesses. The intersect fund has been founded on four principles: transparency, accountability, partnership and mutual respect. Transparency of finances, results, and procedures inspires confidence within the partners. Accountability refers to the measure of impact the Intersect Fund has towards its mission and organization. Partnership refers to the leverage to serve its clients better. It shows mutual respect towards its clients. The main office lof Intersect Fund is located in Newark, New Jersey.
Lazos America Unida is a non-profit organization located in New Brunswick, NJ and is identified as a part of the Center for Latino Arts and Culture department of Rutgers University. It aims to strengthen the relationship between the Hispanic and the New Brunswick community through grassroot projects. The grassroot projects aim to intertwine public, private, civic, and research sectors at the local, state, national and transnational levels. Collaborative responsibilities include: representing and advocating on the behalf of the Mexican American community. Education workshops will be created in an attempt to signify the importance of diversity, support and, respect. Lazos America Unida hopes to achieve women empowerment, positive youth development, and much more!
Manavi is a women's rights organization established to end violence against South Asian women living in the United States. This was the first organization in the US, created in 1985, to meet the needs of South Asian women who have been victims of violence. Manavi works by directly helping survivor victims of violence with therapy and resources, leading grassroots programs in the community, and by bringing awareness to institutions and universities on how to better tend for South Asian women.
New Brunswick Food Community Alliance In 2010, college students, New Brunswick residents, local governments, and community organizations came together to raise awareness on the issues surrounding food-related health within the community. They called their community gatherings, Food Forums. These gatherings came together to speak about community needs, raise awareness on the food-related issues and asked the residents to provide feedback on food-related issues. Utilizing this, they reached out to local residents and leaders in an attempt to establish a stronger food-related system within New Brunswick. Throughout the years, the structure of the NBFCA strengthened and advanced. NBFCA aims to develop and maintain a secure food system that can provide affordable, safe, healthy, and an adequate amount of food for the residents of New Brunswick. NBFCA envisions a hunger-free community.
New Jersey Alliance for Immigrant Justice is a statewide membership-based coalition that creates and achieves policies in New Jersey that welcome and support immigrants to become rooted economically, politically and socially within the state. NJAIJ uses the power and strength of its member organizations to ensure that New Jersey's immigrant communities are leaders in the development of policies that impact their lives and the lives of all New Jersey residents. Through the work of NJAIJ and its members, New Jersey will ensure access to services, support family unity, and develop policies and strategies that provide opportunities for immigrants to fully participate in civic life.  The Alliance works towards policies that support the dignity and human and civil rights of immigrants.
New Jersey Anti-Hunger Coalition was established in 1980 as a program under Center for Food Action.  Its aim is to provide support to emergency food providers around New Jersey and raise awareness about hunger. The NJAHC aims to provide advanced solutions to battle the hunger issue. It does this through addressing the issues that surround hunger by co-leading the New Jersey food for thought campaign, building local coalitions, working with the government to eliminate barriers to food access, educating and engaging the public through the media, and supporting community services places such as the soup kitchen. Additionally, NJAHC is responsible for advocating for policies and improvement to pre-existing programs such as: Emergency Food, Supplemental Nutrition Assistance Program (SNAP), formerly Food Stamps, School Breakfast, Summer Meals, After-School Meals, and Women, Infants and Children (WIC) nutrition program.
New Jersey Partnership for Healthy Kids has been established in 2009 in New Brunswick, Trenton, Camden, Newark and Vineland. Since then NHPHK has expanded to 45 communities all over New Jersey.  Its aim is to help the children community to maintain a healthy weight through increasing accessibility to healthy food and increasing opportunities to engage in physical activity. Past achievements of the NJPHK include: developing policies, renovating playgrounds, ensuring that corner stores have healthy foods, co-sponsors fit and health events and creating bike lanes. Because of the efforts of NJPHK, over 200 policy changes have been implemented that strive to improve the healthy quality of children. Additionally, NJPHK will provide teaching and learning assistance to neighborhoods that aspire to implement strategies, programs, and policy and environmental changes to develop a healthy community.
New Labor improves working conditions and bring the voice out for immigrant workers throughout New Jersey in the community, workplace, and political realm. The organization follows five fundamental principles which are: 1. Working Together; 2. Creating Opportunities; 3. Respect; 4. Empowerment; 5. Equality. Some of the accomplishments of New Labor are recovering the unpaid debts, of hundreds and thousands; diminishing the dangerous health and safety conditions; and executing rights in the workplace. Additionally, New Labor offers an educational component; It offers education programs for its members in order to enhance its member's collective conscience and initiative thought and discussion based on member's experience.  New Labor has two locations, one in New Brunswick and one in Lakewood, NJ
Rutgers HOPE is short for Health Outreach, Promotion and Education. HOPE integrates an active academic component with a student life approach in order to develop a curriculum that encompasses, peer education, curriculum infusion, information development, outreach and comprehensive training related to health and wellness. It aims to utilize this education and outreach in order to foster and cultivate a healthy community within Rutgers University student life. HOPE achieves this through promoting balance in health in all dimensions, providing students with the necessary tools to advocate for personal and community health, offering an extensive amount of opportunities to develop leadership skills and collaborating with Rutgers University to prioritize wellness.
SANAR provides transformational healing services to survivors of human trafficking, and individuals vulnerable to exploitation, while equipping communities with the necessary tools to create trauma-informed responses.  Sanar's  Resiliency Initiative offers scholarship-based holistic wellness services to survivors of gender-based violence including Human Trafficking , Sexual Violence,  Intimate Partner Violence, and Individuals who have been marginalized based on LGBTQIIA identification or expression.   Through their  Training and Education programs, Sanar  works to support communities through a variety of customized initiatives.  Sanar is currently focusing on the expansion of trauma-informed responses in human trafficking hot spot regions including the Americas, Africa, South Asia, and Latin America.
Unity Square Partnership is a neighborhood revitalization program in New Brunswick that focuses on community organizing and economic development, offering a variety of programs including ESL classes, community gardens, and several other annual events. The aim of USP is to build leadership in the Unity Square neighborhood to create long lasting change in the community. Internships with USP will focus on the community gardening project and planning a large annual event at the end of August called National Night Out. USP is looking for support for these programs, in addition to other projects involving grant writing, program planning, and marketing. The National Night Out event draws upwards of 1000 community members. Interns will plan new activities for residents and assist with general planning efforts. Work on community gardens will include setting up work parties for the gardens, organizing a compost building work party, and/or rain barrel system for one of the gardens.
Youth Empowerment Service is a nonprofit organization that has been serving a diverse neighborhood since 2003. Many of the children who participate in YES come from low-income families. YES strives to tap the hidden potential within the children of the New Brunswick community through educational, health and social services. Oasis summer camp is an 8-week camp that allows the children to thrive into confident, understanding, social individuals. This is done through a variety of activities (arts, sports etc.) and a trip to the local pool is every Tuesday and field trips are scheduled every Thursday. The field trips allows the kids to broaden their horizons and enhance their learning experience.
Questions? Contact IWL.CLASP@gmail.com
Eligibility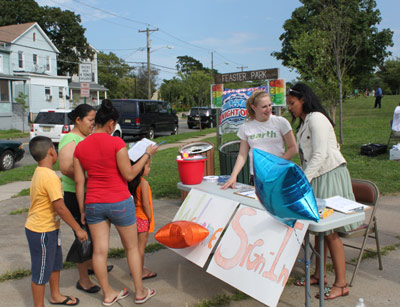 Rutgers-New Brunswick undergraduates in any major with a minimum GPA of 3.0 may apply. Graduating seniors are not eligible. CLASP is open to students of all genders and we encourage applications from LGBTQA & gender-nonconforming students, students of color, disabled students, non-traditional students, and veterans.
How to Apply
Application forms will be available when the program recruitment cycle opens . Selected internship sites may require interviews.
Complete the online application form
Download a PDF copy of your unoffical transcript from TAGS