Support the Institute for Women's Leadership
Your gifts benefit students and the opportunities that transform them.
At IWL, every student represents the power to create a more just world.
Online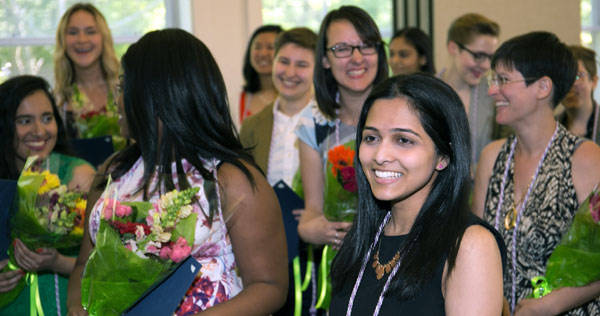 To make a gift by credit card, please use our secure online giving form.
By Mail
Mail your check or money order, payable to Rutgers University Foundation, to Lisa Hetfield at the address below. Be sure to include your choice of what your gift should support, as well as your name and address for record keeping and gift acknowledgement.
Lisa Hetfield
Associate Director and Director of Development
Institute for Women's Leadership
162 Ryders Lane, New Brunswick, NJ 08901
Corporate Matching Gifts
Many companies and foundations sponsor matching gift programs for their employees' philanthropic interests. These companies may be willing to double or even triple the value of charitable gifts made by employees or their spouses. In these instances, you will be recognized for the full amount of your gift plus any employer match. Contact your company's human resource department to find out if it has a matching gift program or use the Rutgers Foundation online search to see if your company will match your gift.
Gifts of Endowment
An endowment may be established with gifts of $100,000 or more to provide continuing support to a designated program. The endowment is maintained in perpetuity, with a portion of the annual investment return used for purposes specified by the donor.
Securities/Stock
Making a gift of appreciated securities can be a great tax-efficient method of supporting the IWL. Donating such stock to can help you reduce or eliminate capital gains tax.
Bequests
For many friends and alumni of IWL, the easiest way to make a gift is in the form of a bequest. A bequest gift, which is designated in a will or other estate planning document, is often the largest donation an individual can make. It is by far the most commonly used type of planned gift arrangement.
For more information about supporting the Institute for Women's Leadership, contact Lisa Hetfield at lisahet@iwl.rutgers.edu or 848-932-8447.