About the Program
Co-sponsored by the Institute for Women's Leadership and the Center for Women and Work, Women Investing in and Guiding Students (WINGS) is an eight month college-to-career mentoring program designed to link selected Rutgers female students with successful professional women as mentors. Students accepted into WINGS will receive one credit offered by the Labor Studies department of the School of Management & Labor Relations issued at the end of the spring semester of the program year.
What can WINGS do for you?
Build a network of valuable professional connections
Gain an understanding about workplace culture, organizational structure and work/life balance issues
Have the opportunity to explore a field of interest through exposure to a professional woman in that field
Attend professional development workshops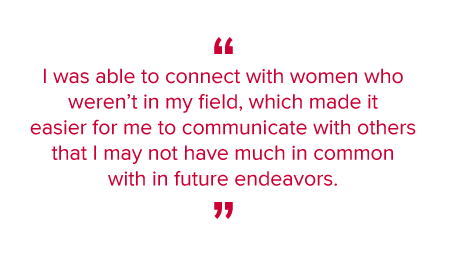 Corporate Sponsors
Our WINGS corporate partners provide funding, leadership and mentoring expertise to make the program possible. Our current partners are Johnson & Johnson and Wells Fargo.
Johnson & Johnson is the world's premier consumer health company that embraces research and science, bringing innovative ideas, products and services to advance the health and well-being of people. Please visit jnj.com for more company information.
Wells Fargo is a diversified financial services company that provides a broad range of retail banking and brokerage, asset and wealth management, and corporate and investment banking products and services. Please visit wellsfargo.com for more company information.
Kick Off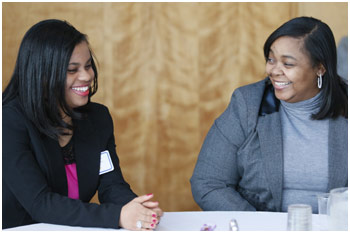 Each company hosts a Kick Off event where mentees find out about what mentoring is from the company's point of view. They get to meet their mentors, discuss their goals and objectives as well as their expectations for the upcoming year and set up a meeting schedule.
Resume Writing & Mock Interviews
To help students stand out while applying for internships and jobs, we bring in company recruiters to share what they look for in a candidate. The students learn about resume do's and don'ts, interviewing tips, and the next steps to take once receiving an offer. They also have the opportunity to practice interviewing with mentors and gain insight on how to handle tough interview questions.
Presentation Skills Workshop
After a short review on presentation do's and don'ts from a professional public speaking coach, WINGS mentees get to practice their public speaking skills and receive immediate feedback and advice for improvement.
Personal Branding
This workshop allows students to help develop their "brand." Students learn about the importance of developing an "elevator pitch", creating a roadmap for their career, and maintaining an image that will help them achieve their goals.
WINGS Networking Social
This event brings together mentors and mentees from all the participating companies and allows students to exercise their networking skills.
Love and Money
This personal finance workshop is a favorite among students and mentors alike. It explores how to budget and save for big purchases and exposes students to terminology used in managing personal finances and saving for the future.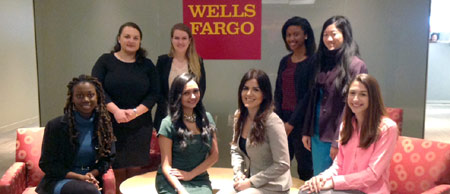 Do both of the recommendation letters have to be from a Rutgers University professor?
No, only one letter needs to be from a professor. The other letter of recommendation can be from either a professor, an internship or job supervisor, or an advisor from an extracurricular activity.
I currently do not have a 2.5 GPA. Should I still apply?
If your GPA is slightly under a 2.5, your application is still welcome and encouraged. Keep in mind though that you can apply to the WINGS Program as a first, second, or third-year student so you can work on raising your GPA and apply to the WINGS Mentoring Program later as well.
How demanding is this program for time?
The WINGS program requires a relatively small commitment of time over the course of the one academic year. There are 6-9 program events and workshops that you are expected to attend during the academic year. The number of events varies by sponsor. These events usually occur once or twice a month, and last about 3 hours (excluding transportation time for those events held on-site at your sponsor's corporate offices).
Outside of these events and workshops, the one-on-one mentoring relationships are not structured. It is up to the mentor-mentee pair to determine by what means (in-person, email, phone, etc.) and how frequently they will interact. However, we strongly recommend and encourage face-to-face interaction between the mentor-mentee pairs as often as possible.
What if an event or workshop is scheduled during the time I have class?
You are still expected to attend WINGS program events. When this happens, you can request a letter from the Program Coordinator written to your professor, informing her/him about the event and asking her/him to excuse your absence from class. We often receive emails from professors confirming that their students are excused and that they think it's wonderful their students participate in programs like WINGS. You should discuss any scheduling conflicts with your professor.
I work part-time and might be scheduled to work during an event. Should I still apply?
Yes, you should still apply - holding a part-time job will not automatically exclude you from consideration for the program. However, if you are selected to participate, you will be given a calendar listing all WINGS events and workshops and you will be asked to make arrangements with your employer in advance to attend these events. You will not be excused from an event or workshop because you failed to request time off in advance.
How do I communicate with my mentor?
The communication methods utilized in mentor-mentee pairs vary based on the comfortability of the mentors and mentees. When you meet with your mentor, you should discuss what communication methods work best.
I am in the Honors College or in an honors program. Do you think it is feasible to balance the demands of both the WINGS Program and the Honors College or honors program?
Yes, absolutely! The WINGS Program does not currently entail an academic curriculum, so there are no weekly assignments, exams, etc. The only obligation you will have as a participant is to attend the program's formal events and skills workshops, and interact with your mentor as often as you both agree.
I am a part-time student. Am I still eligible to apply?
Yes, part-time students are still eligible to apply, and will need to meet the same requirements as full-time students for acceptance into the program. This means you will still be required to attend all WINGS program events and workshops.
Who should apply: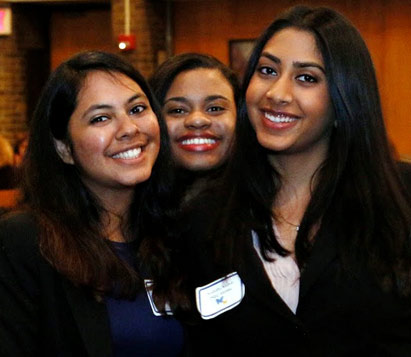 Students who are going into their sophomore, junior, senior, or 5th year in the 2019-2020 academic year with a 2.5 GPA or higher (slightly lower GPAs are also considered) should apply. Students graduating in January 2020 are not eligible for the program. All majors are welcome.
Program Requirements:
Students must commit to meeting and communicating with their assigned mentor(s)
Students are expected to attend all program events and workshops
Students must register for the Short Topics on Work course in the spring 2020 semester to earn the one credit
How to apply:
To apply to the program please submit the following:
Application (See the link below)
Your resume
Two-page typed essay reflecting on the role of a mentor, three things you would like to learn from a mentoring relationship, and what you would like to achieve from participating in the program
Two letters of recommendation from a professor, an employer, an adviser, or someone who can speak to your academic capacity, work ethic, and character.
The completed application including the application form, resume, and essay should be sent via email to Ludine Daux. The application deadline is April 15.
Download the Application here.
Please Note: Letters of recommendation should be addressed to the "WINGS Mentoring Program Selection Committee" and sent directly from the recommender to Ludine Daux, WINGS Program Coordinator, via email at ludine.daux@rutgers.edu.