History of the Gloria Steinem Endowed Chair

The Gloria Steinem Endowed Chair In Media, Culture And Feminist Studies
The Gloria Steinem Chair honors and draws to campus eminent scholars and practitioners to immerse the university community in debate and scholarship about new media, social change, and power structures.
Occupants of the chair design and teach courses, providing unique opportunities to connect students with media experts who focus on gender equality and creating a more inclusive and democratic media. The Steinem Chair was launched in 2018 with Naomi Klein serving as the inaugural occupant.
The Gloria Steinem Chair is an innovative collaboration among the Rutgers Institute for Women's Leadership, School of Communication and Information, and the Department of Women's and Gender Studies at the School of Arts and Sciences.
For event or speaking requests for the Chair, please email Nishi Shah, Program Coordinator, at gschair@rutgers.edu.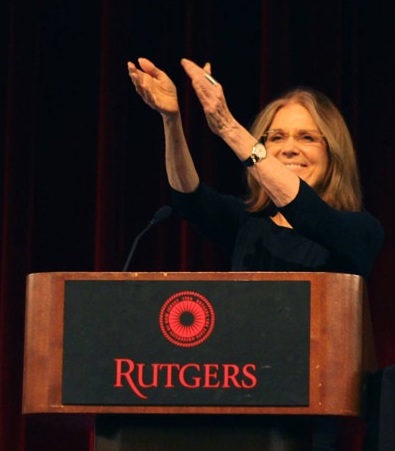 "When I learned of your interest in creating a chair in Media, Culture and Feminist Studies at Rutgers – and doing it in my name – it was hard to wrap my mind around. It is both a first and unique combination of two growing fields of study, and a personal honor for the work and the global movement that matter most to me."

– Gloria Steinem
Origins of the Gloria Steinem Endowed Chair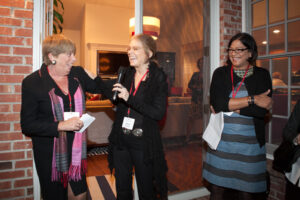 Following a three-year, $3 million campaign, Rutgers University achieved a historic goal in 2017 to establish the first-ever academic chair named in honor of prominent feminist Gloria Steinem.
Funded by more than 425 donors, including a dozen foundations, the Chair was designed to engage students in debate and scholarship and prepare them for success in transforming the media landscape.
"We know that new media are transforming our governance," Gloria Steinem said, "and also that they may be short on facts and context. We also know that heritage media haven't always told an inclusive story. I'm very proud that the late Alison Bernstein, a visionary scholar who directed the Institute for Women's Leadership, committed this chair to inclusiveness and accuracy. I'm also proud that Rutgers is not only one of the oldest and most respected public universities, but also has a student population that looks like the nation. I've come to believe it's as good as Harvard – with democracy added. It also happens to be next to one of the media capitals of the world."
The idea for the chair originated in 2014 with Bernstein, a visionary scholar who became director of the Institute for Women's Leadership in 2011. Bernstein saw the chair as a way to simultaneously honor an American feminist icon while establishing a multidisciplinary teaching role leveraging Rutgers' strong platforms in media, social change, and women's and gender studies.
Despite Bernstein's untimely death from cancer in 2016, her quest to create the first academic position named for a preeminent living feminist grew into a shared mission. A steering committee of dedicated volunteers, co-chaired by Geraldine Laybourne and Subha Barry, continued to raise funds.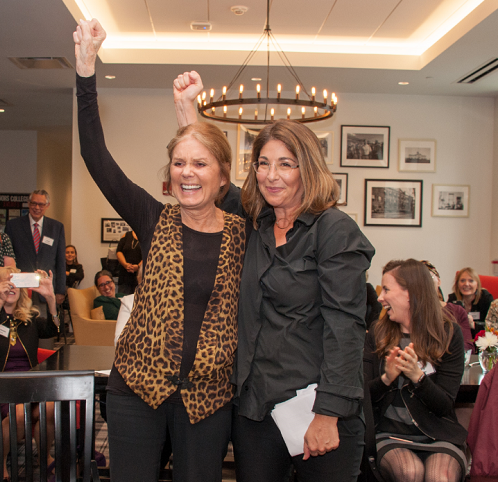 2018-2021: Naomi Klein
It was a critical time in the American social, political, and media landscape when Naomi Klein began her tenure as the inaugural Gloria Steinem Endowed Chair in Media, Culture and Feminist Studies at Rutgers University.
A public intellectual, global activist, and acclaimed journalist, Klein was an extraordinary choice to bring to life the first-ever academic chair designed to celebrate the vision and legacy of Gloria Steinem.
Over her three-year tenure, Klein hosted twenty-three public events, bringing leading activists and scholars to campus to explore climate change, big tech, workers' rights, Indigenous knowledge, and the care economy. To see more of her events, click here.
Klein taught five undergraduate seminars through the School of Communication and Information and the Department of Women's, Gender, and Sexuality Studies. In her classrooms, students examined the ideas and implications of humans as brands and studied the ways contemporary social movements are shaped by the twin forces of digital technology and marketing logics. During her time at Rutgers, Klein inspired the Rutgers community to take action and work together for a better world.