Leadership Scholars Certificate Program

About the Program
The Leadership Scholars Program is a two-year selective, interdisciplinary certificate program of the Institute for Women's Leadership (IWL) that prepares Rutgers undergraduates to be informed, innovative, and socially responsible leaders.
IWL Leadership Scholars explore women's leadership and contributions to social change in contexts that range from politics and government, law and advocacy, business and communications, media and the arts. IWL Leadership Scholars examine how different institutions inform our understanding and practice of leadership and how they encourage — or inhibit — civic innovation.
Leadership Scholars take 19 credits of coursework over two years. Certificates are awarded in May of your second year in the program, and noted on your official transcript.
Progression Schedule and Course List
Semester One (Fall)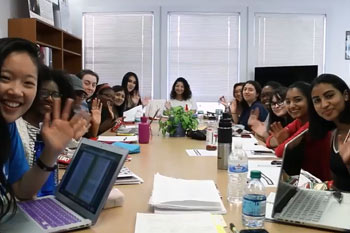 IWL Leadership Scholars Program Context Course (3 Credit)
This course will introduce key concepts in Women's and Gender Studies that are relevant and important to the study of women's leadership.
Possible Course Offerings
988:344 Women and Leadership (3 credits)
This interdisciplinary seminar provides a foundation in leadership theory, including women's ways of leading and women's roles as leaders and agents of change. A new IWL Young Women Leaders Interview Research Project is linked to this course.
Semester Two (Spring)
988:422 Internship Course (3 credits)
The Internship Course seeks to explore the connections between theory and practice by bringing together contemporary articles on women and work with a work experience at a previously secured internship site. We require 8-10 hours of work for 14 weeks (one semester). Internships can be a mix of onsite, remote, and field-related research/work to be arranged with the internship site supervisor. This course must be taken concurrently with the Women, Work, and Community Seminar in the spring semester.
988:396 Women, Work and Community Seminar (3 credits)
The Women, Work, and Community Seminar is designed to provide an opportunity for students to bridge the gap between theory and practice by bringing together academic readings on women, work, and community while developing a proposal for a social action project (SAP).
Semester Three (Fall)
988:430 Social Action Project Seminar (3 Credits)
This seminar explores leadership and social change through guiding funded independent action projects that address particular problems or issues.
Scholars' Social Action Projects
Semester Four (Spring)
IWL Leadership Scholars Capstone Course (3 Credits) & Cluster Series (1 Credit)
The 3 Credit capstone course is an advanced course that builds on the scholar's policy area of interest, which has been developed through the internship and social action project. These policy areas include: arts and literature, media and communications, public health and medicine, law and advocacy, politics and government, science, engineering, technology and math, human rights, work, education, grassroots activism and organizing, and immigration and globalization.
The 1 Credit capstone cluster series, "Current Issues in Women's Lives and Leadership, " is designed to give graduating Scholars an opportunity to reflect on the two-year experience of the Leadership Scholars Certificate program and to anticipate the transition from college to workplace and/or graduate and professional school. The series aims to engage graduating students in a dialogue about current events in policy areas affecting women's lives and in ongoing leadership debates. The assigned contemporary readings enhance and inform the group discussion. The group meets six times per semester over dinner.
Policy Tracks
The policy areas in the program are designed to inform the intellectual and activist work that scholars complete in the program. For example, the policy area will relate to the focus of your internship, social action project, and capstone seminar. Although your major may point you in one direction or another, it may not necessarily influence the work you do in the Leadership Scholars Certificate Program. Also, there are intersections across all the areas so you may want to select a primary area of interest and a supplementary one. In addition, recognizing that your interests may change as you proceed through the program, you may change your policy area.
Policy Area(s) of Interest:
Arts and Literature
Media and Communications
Public Health and Medicine
Law and Advocacy
Politics and Government
Science, Engineering, Technology and Math
Human Rights (global issues, poverty)
Work (business, nonprofit organizations, philanthropy, globalization)
Education
Grassroots Activism and Organizing
Immigration and Globalization
Funding
All IWL Leadership Scholars are eligible to receive funding to offset costs of internship travel in the first year of the program, and a $500 seed grant to fund a social action project in the second year of the program.
What are the goals of the Program?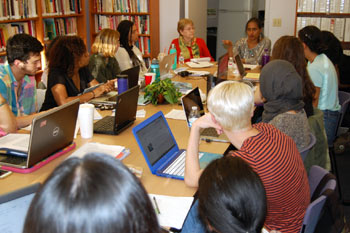 There are several program goals that we strive to achieve. These include:
To offer students an opportunity to deepen their understanding of diverse models of leadership and women's contributions to social change.
To enhance students' personal growth and leadership abilities through a concentrated academic sequence and co-curricular offerings.
To provide an interdisciplinary opportunity for students to address issues specific to their chosen policy areas through an internship and the implementation of a social action project.
To build relationships between students, program alumnae and the community by connecting students with women leaders through collaborative projects.
To consider and critique current leadership research and practice, while drawing on the rich literature in feminist theory and women's and gender studies to engage with ideas of intersectionality.
To use feminist and gender analysis as a tool for academic research, creative production, collaborative work, and practices of social change.
I am planning to study abroad in the fall or spring. Can I still apply to be in the program?
Yes. A number of past Scholars have studied abroad and successfully completed the program. You would adhere to a slightly different course schedule for the program depending on which semester you are away.

Is it possible to juggle an honors program and the Leadership Scholars Program?
Yes. We make every effort to support students enrolled in other programs by allowing for double counting of classes where relevant and applicable. With effective time management, a number of current and graduated Scholars concurrently enrolled in the Rutgers or Douglass Honors Program, a departmental honors program, and/or another certificate program.

I work and may not be able to attend some of the skills development workshops. Can I still apply?
Yes. Workshops are held at various times and days of the week, and you have two years to meet the workshop requirement. Most workshops are embedded into the seminar structure and will be easy to fulfill requirements.

I am a part-time student at Rutgers. Can I still apply to be in the program?
Yes, as long as you are able to complete the requirements in four consecutive semesters.
I'm a transfer student. Do you need a transcript from my previous college?
Yes. An (un)official transcript should be sent directly to the Program Director.
I don't see a policy area that I would be interested in pursuing. Can I still apply?
Yes. There is flexibility in the policy areas of interest, and we welcome students who are either undecided on their policy area of interest or interested in a policy area other than those listed on our website. We also offer a general leadership area for students who wish to explore several areas in their coursework and practicum.
I have to register for classes but don't know if I'll be accepted into the Leadership Scholars Program. What should I do?
The Women & Leadership course is held Tuesdays 2nd and 3rd period every fall. You should leave this slot open in your schedule if possible. If you have not already taken Women, Culture & Society or one of the other pre-requisite courses, you should plan to take that as soon as possible. The April 1 notification date will give you time to finalize your schedule before the end of the semester.
Is it possible to use a letter from my soccer coach from high school for my recommendation?
Yes. The IWL requires you to have a recommendation from at least one professor. The second recommendation can be from someone who knows you in a different capacity like an employer, coach or volunteer supervisor. But at the same time, you should be aware that the strongest recommendation letters are often from faculty members who know your academic work.
I've already taken a context course listed on your website. Do I still have to take another context course during my two years in the program?
No. The course satisfies the context course requirement even if you took it before being accepted into the program.

What if I took a course not listed on your website that introduced me to the issues and problems facing women's position in society. Do I still have to take another context course?
You have the option of petitioning to have a relevant course not already listed be accepted as your context course.
Still have questions?
Email Program Director and Research Coordinator Sasha Taner at sdwood@rutgers.edu.
Eligibility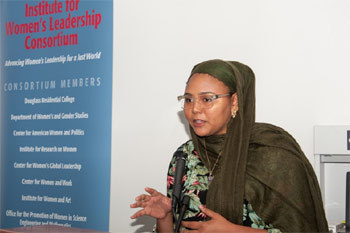 1. Rutgers undergraduates with a strong interest in women's leadership social change. The Leadership Scholars Program is open to students of all genders and we encourage applications from LGBT & GNC students, students of color, disabled students, non-traditional students and veterans.
2. Minimum 3.0 GPA or higher.
3. Pre-requisite Course. Choose one of the following courses as a prerequisite for the program. If the course is not taken before the start of the program, it should be completed during Semester One.
988 101 Introduction to Gender, Race, and Sexuality
988 130 Knowledge and Power: Issues in Women's Leadership
988 201 Feminist Practices
988 202 Gender, Culture and Representation
988 235 Dynamics of Class, Race, and Sex
Application Components:
Completed application form submitted through the link below
Resume
Current (unofficial) transcript
Two letters of recommendation (one recommendation must be from a professor)
Application deadline is March 1st, with interview priority given to early bird applicants, by February 1st.